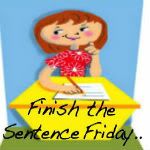 Linking up with
Janine
for Finish The Sentence Friday. This week is a good one:
I hit a turning point in my life when...
- I just wanted to get out of my home town. I don't exactly know when it happened, but sometime between
being an angsty and depressed 12-year old, panicking when my parents considered moving to another
town and being an extremely annoyed 18-year old, ready for the big, big world..
- I met The One. I knew that he was my man from the very beginning, and gave up a promising career to
live the Army life with him.
- I became a mother. I have always been a career girl who never cut herself any slack. Even when I was
pregnant with Lily, I planned on going back to work full-time as soon as possible. Having a baby turned
me into a wuss (in the most positive sense!!). I would love working part-time and spend more time with
the girls during the week, but that obviously didn't happen.
- I became pregnant unplanned. This was probably the most defining turning point. Once the two little lines
appeared on the test, we knew that we had to make radical changes in our lives. We thought back and
forth, from Richard taking advantage of the GI Bill and going back to college to moving to a place with
better job prospects for both of us. We ended up moving back to Germany, to the place we started out
over 4 years earlier, and it has been the best decision in our lives.
What was a defining point in your life?