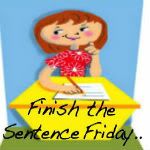 It's Friday! I've been trying to take care of the hubbie the last few days, who has had oral surgery on Wednesday; of course, he didn't want me to take care of him, so at least I tried to give him space. He's had two bad nights without sleep (only Ibuprofen 400, no good American drugs for the poor guy), but got out his tubes today, and a good dinner in his belly, so I hope for a better night tonight.
Lily is still asking where Daddy's teeth were, since he should put them under his pillow so the tooth fairy could bring him some presents for being a good boy.
And since it's already Friday, I'm linking up with
Janine
for Finish the Sentence Friday. Today's cue:
Your favorite movie of all time is...
nuff said :-)