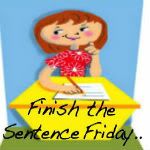 A major TGIF-shout out to all of you out there! I'm so glad it's weekend, read for some much-needed sleeping in and spending quality time with the family. I don't know why I'm so exhausted all the time lately, but I know I'm not the only one. Trying to get my energy back up by excercising regularly and getting fit again. I cannot believe that it's been 6 years since I've been running regularly. Today's run went great, I went further than last time, seems I'm getting back in the routine quickly. Only a little over 2 months until the day of the run!
To start this weekend, I'm once again linking up with
Kate
and
Janine
for Finish The Sentence Friday:
The best Fourth of July I had was...
probably my first one. I'm German, so we obviously don't celebrate Independence Day. the first Fourth of July I celebrated was the year I married the hubby. It was only a few days before we were getting ready to move to our new duty station in Ft. Riley, KS. Since the hubby took the tour bus with the rest of the band from Bamberg to Wuerzburg, I took the last opportunity to spend some time with my best friend, who studied there. We were both excited to witness the first military Fourth of July celebration. And I can tell you, it was awesome. The band wore their dress blues; they were playing their music, the 50 flags were presented, the canons went off, and it all ended in a great firework.
Ever since we're not in the military any more, we didn't do much for 4th of July, especially not since we've been in Germany, but I'm planning a little something for him and the girls this year. Not quite sure yet if we can do the bbq, because the neighbors had to dig up their yard due to drainage issues. Maybe I just prepare a picknick after work at the playground. But there will be something today.
Have a great weekend everyone!