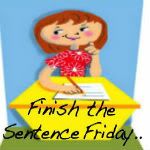 I can't believe it's Friday again! Time just flies like crazy these days. Last week, Lily has *finally* started elementary school, Violet is continuing her speech therapy and is making progress, and little Calvin had his well-baby exam and doing just fine. I, myself was not doing too fine. I was working - overworking myself. Since I'm on maternity/parental leave, I am supplementing our income with freelance work translating and similar language services.
One really important thing I have learned this past week is that
life is way too short to
do that to myself. The money wasn't worth it. I didn't sleep enough, I wasn't able to spend enough time with my girls. I didn't eat or drink enough and extremely stressed out because of the tight deadline. At 1 am the day of Lily's first day of school I decided that I had to stop that craziness. I emailed the customer and informed them that I was not able to complete the project. I felt lighter. I did not want to spend this special day in Lily's life stressed out about when I could return to my work and then pull an all-nighter. I got some sleep, and I enjoyed Lily's day.
Life is indeed too short to
waste it with stress. Instead, I will focus more on filling my days with tons of cuddles, laughter, playing games, taking walks, and enjoying having my family around me.