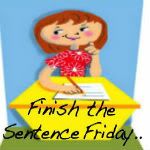 And just like that it's Friday again. Somehow, Fridays feel different now that I'm home, because afternoon naps also happen on Fridays nowadays, not only on weekends. And since I am well-rested now (somewhat), I'm linking up with
Kristi
and
Stephanie
for yet another Finish The Sentence Friday. Today's cue:
At the end of summer, I always feel...
EXCITED!!!!!
- for my favorite season to start.
- for the heat to be over.
- for colorful leaves.
- for lots and lots of pumpkin goodness.
- for Halloween fun.
- for Thanksgiving somewhere down the road.
- for cocooning a little bit on yuckie days.
- for some purging and organizing.
Yes, I admit, there may be a tad bit of nostalgia for summer dresses, ice cream in the sun, and pool time, but generally, I'm looking forward for fall all year long :-)
I hope everyone has a wonderful weekend!!