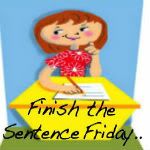 What is the best way to ring in the weekend? A nap in bed with Lily while cuddling my favorite 6-year old to sleep. And now, I bet, I won't be able to sleep until 2am. Too good there's a re-run of Game of Thrones Season 3 - or is it? It's in German, and they felt the need to translate the names; it sounds so, so weird!! And so we arrive at this week's cue for Finish The Sentence Friday:
The most unexpected part of being a grownup is...
... that it's not all as it looked from 6-year old me perspective. There's always money in the wallet, just by magic. Adults could do whatever they wanted and no-one ever told them no. How grand it will be!
Now, that I'm somewhat adult-ish, I generally always have money in my wallet (as long as I remember to get some from the ATM before I run out), but unfortunately it doesn't just magically appear there. Yes, theoretically no-one's really ever telling me no, except my reason, and the fact that despite being an adult, I still need an indecent amount of sleep to truly function. So I still go to bed early (at least I try), take an afternoon nap (if I have the chance), eat my veggies (which I like nowadays), shower every day (can't imagine not to any more), and behave in general like a very good kid.
Except that I now have the responsibility to take care of two actual kids, earn money, pay the bills, make decisions that have actual consequences, etc. Hey, that was NOT part of the deal, or was it??
Thank you so much for hosting,
Janine
!