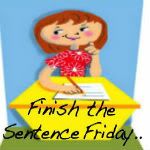 It's Friday, weekend, finally! Somehow,. the second half of the week dragged along, still covering for two of my co-workers at work. But come Monday, at least one of them will be back, and I hope she doesn't sign off right back into vacation once she sees her email inbox.
But back to today, Friday, which means I get to Finish a really fun Sentence
Janine
and her friends came uo with:
I went to a concert once...
... with a friend. It was spontaneous, and unplanned, and crazy (for someone like me), and somehow an event I remember with a grin on my face.
I think my friend came up to me in between classes one day, asking me how about to go and see this lad in concert that night. In Karlsruhe, a town about 150 miles from where we lived, which, for Germans, is half a world away.
We jumped in my car right after class and were pretty lucky that we didn't hit any major traffic. We actually found the concert hall, without a navigation system or anything, which was quite an achievement for two chaos-girls like us, and we managed to be there in time for the concert. It was awesome, and the minute he entered the stage I forgot my pledge not to be a screaming fan girl and screamed my poor lungs out.
We arrived back home late that night - or early the next, to be exact, not talking much on our way back for a lack of voice, but having huge grins on until our faces hurt.
We were friggin tired during class the next day, but it was definitely worth it for both the experience and the memories over a decade later.
Have a great weekend everyone!