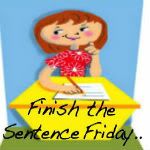 What I really want to scream out loud is:
THANKS GOODNESS IT'S FRIDAY!!!
Today was fairly good, apart from just being mommy-brained so badly it annoys me. But the days before were chaos. Moving office was more stressful than I'd thought, not being able to work, stepping between moving boxes, saving my delicate orchids from the movers, being in the way, etc. My sleep wasn't the best all week, and towards the end of the week, I just became increasingly exhausted. But now, it's weekend, I get to sleep in and take naps during the day. I get to relax, and finally, finally (!!!) get that pony tail cut off tomorrow.
Have a wonderful weekend, everyone!! And thank you to
Janine
for hosting this great link-up!