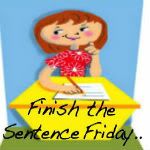 Once again I get to link up with
Kate
and
Janine
for "Finish The Sentence Friday". This week's prompt:
The best and worst parts of blogging are...
... the fact that blogging feels like a time machine.
I've literally felt like I don't have time for anything else any more during those past few months that I am actively pursue blogging more seriously. Don't get me wrong, I don't neglect my family or job, but after a whole day of work, after we have played with the girls, bathed them and put them to be, after I spend some time with the hubby, I usually get online and work on my blog for a couple of hours. I write my post, I respond to comments, which is very important to me, I read and comment on other blogs, which I love. I really enjoy people from all corners of the world, with different lifestyles, in all sorts of stages in life and share in their adventures. But when I have the third load of laundry still unfolded in the clean laundry basket after a few days, it makes me think. I had planned on taking up sewing or crocheting. Nope, the sewing machine my mom gave me about 2 years ago still sits in the closet unused. I have been thinking about doing an Etsy shop with crafts; nope. I feel sometimes as if blogging eats up all my "free" time, but I simply cannot stop because I enjoy it way too much. My day simply needs more hours!!!