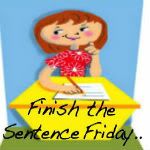 Linking up with
Janine
and
Kate
for Finish The Sentence Friday. Today, I was accused by Mr. P-Bomb that I was the one responsible for the current weather (overcast, rain showers, kind of coolish, not very nice), because I liked fall. Well, what I actually meant was the kind of mid-50s, sunny, breezy, earthy, colorful leaves kind of fall, but that's obviously too difficult of a concept for him to grasp. Anyways, summer is definitely past (for now), therefore, this week's sentence:
My best summertime memory this year was...
... the wedding we were invited to attend. The girls were in the wedding party, the weather was perfect, the couple glowing, just a very beautiful celebration of love and commitment.
There were many other beautiful moments, our family vacation, the summer concert, and other fun outings, but if I have to pick my favorite, it's the wedding, hands down ;-)
Re-purposing the flower basket
Sweety posing