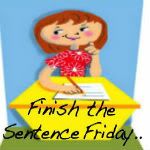 Linking up with Kate and Janine for another Finish The Sentence Friday. I'll be confined to my bed for the rest of the weekend due to jumping on the band wagon of the year's first flu-like cold wave, yay for me! Getting right to the topic:
I deserve a medal for the time I...
did not punch an old lady in the face who pitied me for "only" having a girl.
A little background: While we lived in Manhattan, KS, hubby and I went out for coffee at the Hastings cafe a lot. One time, just after Lily was born, we happened to hang out there again, when an older lady passed by our table, and started cooing over Lily peacefully sleeping in her stroller. After a minute, she turned around, looked me in the eyes, and said: "Well, you're young and still can have a few sons!". EXCUSE ME?? Seriously?? Her eyes were so cold, I think my smile just froze on my face. And I really had to control myself to not punch her. I definitely think that this is medal-worthy.
Have a great weekend, everyone!