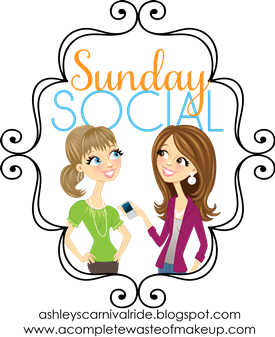 Ashley
is out sick today, so I am linking up with
Neely
for Sunday Social, this week it's all about my favorite season, coming this months!!
1. What is your favorite fall activity?
Walks in the forest, collecting colorful leaves, acorns, and chestnuts. I'd say the corn maze, but our local maze is going to be cut down next week or the week after. Hope we'll make it before that!
2. Do you follow a football team? If so, which one and why?
Easy and simple: Nope. No football fans in our house!
3. What is something fun about fall in your area?
The woods, definitely. And in early November the lantern walk the kids do in kindergarten ;-)
4. What are your favorite fall staple outfits?
Ohh, fashion again ;-) I'd say corduroy pants or jeans, layered sweaters, sneakers?? Definitely time to break out the scarves again!
5. What things are you looking forward to most about this coming fall season?
The progress on the house, fall crafting, crisp, maybe even some frost. Candles and of course Pumpkin Spice Latte!!
6. What is your favorite fall holiday or tradition?
Thanksgiving. We are hosting a dinner for friends and family each year, and I can't wait to have a really big bash next year at the new house. It's specially important to us as it is a tradition we're treasuring in Germany to help keeping the American traditions alive for the girls and, of course, the hubby.
Have a wonderful new week, everyone!