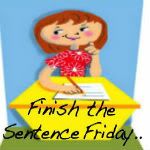 The week is over, and it's weird, because it doesn't really feel like weekend yet. I was on sick leave from Tuesday on, and seriously wonder if I'll be back Monday. I'm going from feeling fine to bouts of elevated temperature, to sleeping all day long, to back feeling fine. It's annoying and obnoxious, and I really, really cannot wait to feel 100% again. Anyways, time still to link up with
Janine
and
Kate
for Finish The Sentence Friday; today's sentence:
The bravest thing I've ever done was...
... packing up our family and move to another country. Without any jobs lined up, with only my grandmother's mold-infested house to stay in, to say good-bye to friends who have become family, to leave a place that has become home to ensure a better future for our family.
And why? Because we felt that there was no real future for our family in Washington State. We loved the place, and we loved the people, but I was stuck in a job with little chance of improvment and a salary that JUST paid the bills when we were a family of three, and close to no job-options for Richard in that economic environment. Then the positive pregnancy test, the panic, the what-can-we-do's, and finally the decision to move back to my native Germany. Where we would have a place to stay at first (not knowing that this place would make us sick, but that's another story), some income from Kindergeld (a monthly stipend the government pays for each child) and Erziehungsgeld (yet another government stipend that is paid to parents for up to 14 months after a child is born), public health insurance, and the potential for a good future for our family.
It was scary back then, but today I am glad we did it. I was able to find a job that I probably would have never gotten in the U.S. I have full sick pay for up to 6 weeks in a row. I get additional sick days if the children are sick. We earn a better income, the kids go to better schools, and one day may have the chance to go to university, at a very low tuition fee. There is a lot more security and the knowledge that there is a network of social services and benefits that will support us in the worst case.