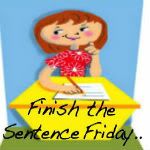 Finally it's Friday again. Tomorrow, the painting on our house should be completed and Violet and I will spend the day shopping for furniture for the girls' rooms with my parents while Lily will attend a last minute birthday party.Today, after our doctor's appointment, we ran out really quick to buy a present; now I definitely won't feel bad any more calling a friend on Wednesday to invite her kids to a birthday party on Saturday any more :-)
Friday also means that Janine and her co-hosts have come up with yet another Sentence to Finish, and this week it's a really good one!
The nicest thing someone has ever done to me is...
... giving life to me, raising me, providing me with some tough love but also giving in when needed. And still being there for us today! Thanks Mom and Dad!
... staying with me for over 8 years now. Dealing with my moods and antics without going completely crazy. I sometimes cannot believe that I am really that lucky, but here I am. You gave me three wonderful children, more back and foot rubs than I deserve and cook the most yummie meals for us most days of the week. Thank you so much, my love!!
... loving me unconditionally, even though I'm far from perfect. Loving me even if I'm impatient or unfair sometimes. Giving me back rubs and oiling my tummy every night. Bringing so much joy and awe into my life. I love you, my sweet little girls!!
... still being my best friend after 17 years. Having been encouraging, critical, and always honest. Having been the calming opposite to my sometimes crazy antics, but while allowing me to pull you along for some fun adventures. No matter how far we lived apart, nothing could change our friendship. Thank you so much for being my friend, Sonja!
... giving me a chance when you had no reason to do so. When my resume looked less then perfect, but you noticed something that made you decide to give me a chance. We owe you so much. Thank you, boss!!
... for all the random kindness in my life, from strangers, friends, acquaintances. For absolutely no reason. These are the moments that make my life so much richer. Thank you so much!
I hope you all have a wonderful weekend!