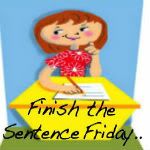 Even though I'm still on vacation, I made sure to take part in
Janine
and
Kate
's Finish The Sentence Friday. This week:
I have a bad habit of...
... obsessing. Yes, instead of doing some easy cleaning or relaxing on the couch this Friday before our vacation, I'm obsessing about providing blog posts for every single day of my vacation to you, to not disappoint anyone; I'm obsessing about not being able to read any of your wonderful posts and comment on them. I'm afraid to disappoint.
And this is the reason why I needed this vacation SO badly. To deeply reconnect with the hubby. To relax with the kids. To ground myself.
See you all again tomorrow!!