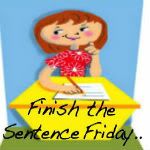 It's Friday, finally!! Tomorrow after lunch we'll head out for our first true family vacation since our trip down to Portland back when Lily was still an only child, if you don't count the trips over the big pond to visit family, which are sometimes more stress than relaxing.
Before we're heading out, I'm going to link up with
Katie
and
Janine
for Finish the Sentence Friday.
My bucket list includes...
... lots and lots of travelling.
I love to travel, to see new places, meet new people, and experience new cultures. There are also a couple of places I want to return to, just because I need to show them to the hubby. Check out some of the places from an older post!
... run a marathon.
... write a
nd publish a book - even though I already think about cheating and writing a children's book ;-)
... raising our girls to be happy, independent, and responsible adults.
... have a honeymoon.
What is on your bucket list??