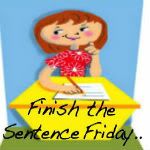 It's finally Friday! I thought I wouldn't make it through the week, but here I am, and you know what? We don't have ANY plans! I've had a playdate scheduled, but now both Violet and I have the first sinus infection of the new season and we unfortunately had to cancel. So I guess we're just heading into town tomorrow to get some shopping done and relax a whole lot! I'd like to try a new recipe from the pasta cook book I got from the library, we'll see. Today's "Finish The Sentence Friday" cue by
Janine
and
Kate
:
I wasn't really myself when I...
... decided to
give birth unmedicated and actually followed through with the plan. At least this was what I told myself when I was there, pushing for over an hour, having one contraction right on top of the other without a moment to rest. Great, Stephanie, good job; now see what you got yourself into! I want meds NOW, no matter what, just give me SOMETHING!! This luckily only played in my head as the hubby told me later how proud he was of me for going through with it without complaining once.
But what did it get me?
A baby who was alert from the moment she took her first breath in this world. A (somewhat) peaceful birth experience with wonderful midwives who gave us all the space and privacy we needed. No needless hustling and bustling when the birth was imminent, no doctors called to "help". No birth injuries due to over-medication and unnatural pushing. A much faster recovery time. And after all (with some time passed since above moment) an overall beautiful experience I would not want to miss for anything in the world.
Violet's first morning, at home of course!
Was there
ever a moment in your life when you SO wanted to slap yourself, face-palmed about something you did, or simply wondered "WHY??" ? Please share!