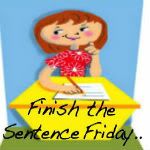 A Friday after a two-day work week somehow does not feel like a Friday, but it obviously is, because it's once again time to link up with
Janine
and
Kate
for Finish The Sentence Friday. Today's cue:
I used to love...
... going out and party. I would be looking forward to the Thursday nights in Bamberg. It was €1-shot night at the local Irish pub; two of my friends would buy ourselves one drink, and then drink the rest of the night on the soldiers' tabs and end the night dancing at the Green Goose. I got about 2 or 3 hours of sleep before going to class on Friday and was ready to hang out at my second living room, the Graffiti at Saturday night, playing pool and having fun with my friends, meeting new people or catching up with acquaintances we would meet by accident. Saturday night would either be the Graffiti again, it just never got old, or we would head out and dance the night away in one of the clubs. I could not have imagined my life any different, until it started to get old. I did not feel like clubbing any more or get hammered.
Nowadays, I sometimes feel old when I need at least 8 hours of sleep to function. I feel old when much older colleagues tell me about partying on the weekends. But I am much happier. I love my life of spending weekends on the couch, or hanging out with friends. Having a family to come home to instead of partying my loneliness away. I have found myself, and I have found love.