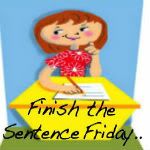 Friday night, the best time of the week! Time to link up with
Janine
and
Kate
for Finish the Sentence Friday:
When I was a kid, I thought...
... that my parents were perfect. Today I know that they are people, with feelings, virtues, and vices. My parents are no gods, but humans just like me, and that is fine. I love them. Without them, I wouldn't be where I am today (I wouldn't be at all without them, to be exact).
I hope that I won't be a demi-god for the girls. I want them to see my faults, and love me despite them. That way, I won't be dropping off my Olympus in their eyes one day.