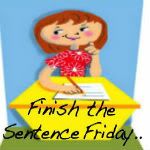 This week flew by, but I am so glad it's Friday. After yesterday's company event I was left with way too little sleep, and empty stomach, and a glass of wine or two too many... It was tons of fun, but the best part of the night was being picked up by my dressed-up husband after his concert.
Tonight's prompt at Finish The Sentence Friday:
When it comes to my past relationships, my husband thinks...
... well, witness a phone call with my ex J. a couple of weeks after we got engaged (about 6 weeks into our relationship):
J: Hey baby, how's it going?
Me: Oh, fine, not doing bad at all...
J: Do you want to hang out some time? * booty call alarm*
Me: No, don't really have time, busy, you know..
J: So, what's going on?
Me: Oh well, I'm just going to get married soon...
J *loud enough for Richard to hear from across the room*: WHAAAAT?????
Hubby: grins
Our philosophy is that our past is just that: the past. I am lucky enough to be married to a man who is not jealous, who trusts me. He accepts my past relationships as part of myself, as I accept his. The past is the past, and if we had wanted any of the people in our past, why would we have married?
Thanks so much for hosting,
Janine
!