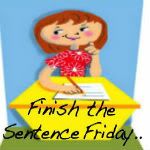 It's Friday, another crazy week is over, one co-worker is going to be back in the office on Monday and I can tend to new projects, likely to accrue a ton of more overtime. But now it's time to relax, and look forward to a fun weekend with tons of sleep, good food, great friends, new games, and a visit to my grandparents.
To ring in the weekend, here's this week's cue to the FTSF:
I once saw the biggest...
... bruise. In one of my former lives, I was a martial arts fighter, the only girl among a bunch of guys who lived under the motto that, if a girl is daring enough to enter a ring with them, she's not getting any mercy. I stood my ground, until one day, I was felled by a low-swung kick. I heard a cracking sound, and the worst pain I had ever experienced by then. Somehow I got back up, and finished the fight. It was ugly. The bruise reached from knee to ankle, wrapping around half my leg, the shin bone was partially fractured. I was able to watch the beauty for about 2 months, turning from nearly black to a lighter blue, purple, green, and finally yellow, moving all the way down to my toes eventually. My mom was freaked, and I kept fighting. Just don't like to give up.
Have a great weekend, everyone!