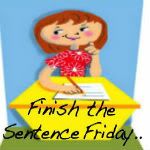 Finally the FTST break is over (yay), what also means that my vacation is almost over (not so much yay). I'm out tonight playing D-20 Modern with the lads, but wouldn't miss FTST if I can avoid it :-)
The first cue for 2014:
My blogging goal for this year is...
... to continue having fun, meet new people, but also to prioritize. To take breaks when I need them, to focus on quality over quantity, not to burn out.
Thank you so much for hosting, Janine and Kate!