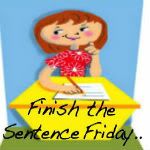 Friday, finally! I've put in overtime almost every day this week, and I'm properly spent. I'm looking forward to a weekend of relaxing, napping, and maybe baking some apple pie.
In the meantime, Janine is dreaming of a $61 mio. jackpot and came up with the cue for this week's FTSF:
If I had a million dollars...
... I would continue our life. Pay off the house, reduce my hours at work to be able to spend more time with the family, maybe buy a cabin in WA, our second home, for fun family vacations. I'd help my parents to fix up their house and my dad to go into early retirement. We'd put aside money for the girls to have an easy start into life, get a prime education, maybe studying abroad. The rest, we'd save, maybe buy some real estate as investment, all the boring stuff. Oh, and I'd buy a Pandora bracelet for myself :-)
Have a great start in in your weekend, everyone!