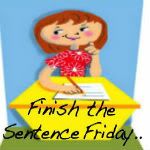 No, not really, but it's Finish The Sentence Friday, hosted once more by
Janine
and friends, who came up with this goodie:
If I could hang out with any celebrity, it would be ...
David Tennant! David Who?? Right, Doctor Who!! - Are you confused now?
For anyone who don't know this guy, he's the wielder of the sonic screwdriver, master of the tardis, Time Lord. Doctor Who. Well, he used to be, before Matt Smith took over. But he was by far the Doctor with the nicest hair, who has also taken out Edward Cullen. No, not really, but he took our Rob Pattinson's character in Harry Potter 4. And honestly, his hair is much more awesome than Edward's!!
Why I would like to hang out with him? Because he's British, and I love British accent. Because he's cute, he's played Hamlet, and is a well-known nerd. Also, he's my only celebrity crush who my hubbie likes, too. Oh, and did I mention that he has awesome hair??
Team David!!