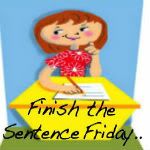 Sorry, missed "FTSF" due to Friday night date with the hubby. I still checked out the question, and since I have an almost incredible answer, I will resond today.
So,
one time when I was bored out of my mind, I
found the Mr.
Yes, that's correct. I was a student back then and had just returned "home" to my tiny little student apartment from a weekend at my parents' house. I was bored out of my mind, nothing to do, only crap on TV, and none of my friends was up to doing something either. So I was surfing around MySpace (back when it was still cool) and stumbled over the profile of this incredibly cute guy. I clicked on the picture and read what he had been writing;

at this moment, I knew that he was THE ONE :-)
Have a great day everyone!!